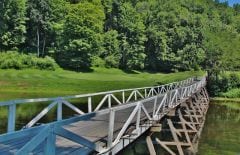 Shawnee Inn & Golf Club
100 Shawnee Drive
Shawnee on the Delaware, Pa 18356
This historic course located at the Shawnee Inn has 24 of the 27 holes on an island in the Delaware River.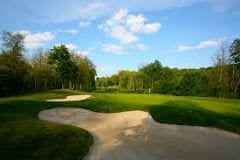 Great Bear
One Great Bear Way Road
East Stroudsburg, Pa 18302
The regions only Nicklaus Signature Design course is now fully open to the public and offers a fabulous clubhouse.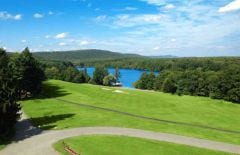 Sky Top
One Skytop Lodge Road
Skytop, Pa 18357
Located at the historic Skytop Lodge, this course offers a mountain style track and challenges players at all levels.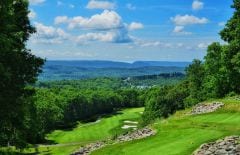 Country Club of the Poconos
1445 Big Ridge Drive
East Stroudsburg, Pa 18302
This 18 hole Championship golf course is open to the public and rewards golfers at every skill level.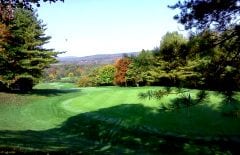 Hideaway Hills
5590 Carney Road
Kresgeville, Pa 18333
This 6930 yard course takes golfers around four lakes and spectacular elevation changes. There is a full service pro shop on site.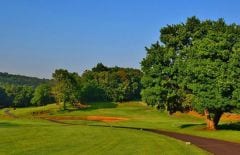 Glenbrook
1044 Hickory Valley Road
Stroudsburg, Pa 18360
One of the oldest golf courses in the Poconos offering a Pro Shop, Clubhouse and Guest Suites giving it a country club feel.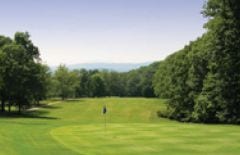 Terra Greens
123 Terra Greens Drive
East Stroudsburg, Pa 18301
This walker friendly 9 hole community course offers a tree lined moderately hilly course with beautiful countryside views.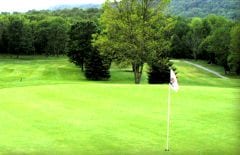 Water Gap Country Club
288 Mountain Road
Delaware Water Gap, Pa 18327
Stunning homesite is available on this historic 18 hole course which once hosted the 1926 Eastern Open.