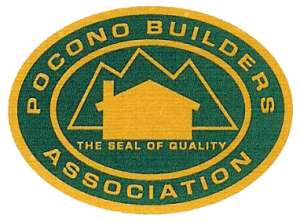 Pocono Builders Association Awards
The Pocono Builder Association annually recognizes excellence in the building industry. Submissions by local builders and trades are reviewed anonymously by experienced third parties for quality and distinction. RGB Custom Builders has won over 130 home building awards over the years and continues to demonstrate that we are "A Builder to Believe In".
Winner of the Pocono Builders Award of Excellence three times.
Over 130 Distinct Awards Received from the Pocono Builders Association
More Awards Than Any Other Builder!
Pocono Readers Choice Awards
Since 2013 the Pocono Record has reached out to the local community to answer the question, "Who would you choose". We are eternally grateful that our community has chosen RGB Custom Home Builders to receive the highest award eight years in a row, as we continually strive to be………."A Builder to Believe In". RGB is honored to have been crowned the 1st Place Winner of 2013, 2014, 2015, 2016, 2017, 2018, 2019, and 2020.

Distinguished Achievements
RGB Custom Home Builders really does work hard to build it smarter, and better. We also work within the community to give back and be a good neighbor.  We encourge you to join us!
Built a "Made in America" Home – with All Components Manufactured in the USA
1st Builder in the Country to Achieve the Highest Level in Green Building as Designated by the NAHB
Awarded the Pocono Chamber of Commerce Bizzy Award
Partnered with Habitat for Humanity & Association of Realtors for Local & National Building Projects